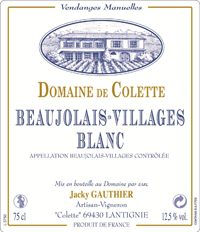 Made using Chardonnay grapes, which are hand picked at full ripeness, this golden tinted white Beaujolais-Villages, gives off typical Chardonnay white flower aromas (honeysuckle, lime tree flower).
After two years in the bottle it evolves to more honeyed notes.
It partners starters, fish and, for the more daring, some cheeses.
Serve cool but not chilled.