Domaine de Colette is on the commune of Lantignié.
Facing the Saône Valley from our hillside, an exceptional view spreads out in front of us, right up to the Alps ; in clear weather, it is not unusual to see Mont Blanc and its snowy peaks.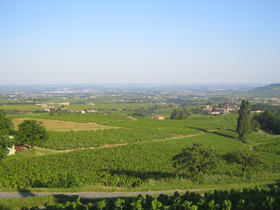 We have vineyards in different sectors of the Beaujolais region, allowing us to bring you a range of appellations :
- Red, Rosé and White Beaujolais-Villages
- Régnié
- Morgon
- Moulin-A-Vent
- Fleurie
All the estate vines grow on south and southeast facing slopes. These are difficult of mechanize and work because of the gradient, but in exchange we get a wide palette of different soils and terroirs.
Our Beaujolais-Villages and Régnié vineyards are on exclusively granitic soils (pink granite and porphyry) where the grapes they produce are the expression of all the finesse that our "Gamay" grape variety can give. Red fruit notes are at the fore.
Our White Beaujolais-Villages – crafted using Chardonnay grapes – has its roots in a terroir where the granite on the surface is associated with clayey sub-soil. The slopes here are very steep, giving exceptional exposure to the sun, allowing us to put back the harvest date to get grapes at peak ripeness.
Our Morgon comes from a subsoil that is rich in schist (decomposing granitic rock). This gives its personality to the wine, which is mineral with great cellaring potential. The aromas and flavours develop to cherry and kirsch.
The vines for Moulin-A-Vent push their roots deep through granitic soil that is rich in manganese, then down into clayey subsoil, giving a generous wine with floral iris, fully blown rose and ripe fruit aromas. Moulin-A-Vent is said to be 'The Lord of Beaujolais'.
Our Fleurie is nourished by a granitic soil made up of alluvial sands, giving a refined carmine-robed wine with a palette of aromas that open out onto scents of very ripe black-skinned fruit.